300MM High Power Solar Warning Light Induction and Features
300MM High Power Solar Warning Light

Solar Warning traffic light series widely using in manufacturing facilities, for pedestrian safety, stop and yield signs, vehicle directions, emergency instructions, parking safety, school zone safety and important intersection for warning. Next, Let me give you some introduction of 300mm high power solar warning light.
Brief introduction of 300MM High Power Solar Warning Light
1. Cover of our solar flash warning light can be cobweb or clear lens.
2.Solar warning light has wider viewing angle.
3. Flashing times in a minute can be optional.
4.Utilizes constant current source to maintain consistent light output.
5. Engineered for superior thermal management.
6. LED solar traffic warning light is environmentally friendly & energy saving.
7. Meets and/or exceeds CE&ROHS standards.
8. Maintains 70% of the initial luminance intensity after 100,000 hours of operation.
9. Excellent moisture and dust resistance.
10. The shape of our Solar traffic warning light can be full ball ,or arrow etc.
11. All our solar flash warning light have 2 years warranty
Features of 300MM High Flux Solar Warning Light
Modern and popular design

High efficiency, high brightness, wide view angle

90% energy saving than traditional light

Long life span: ≥100,000 hours

Multi-ply sealed water resistant

Light intensity automatically adjustable

Exclusive optical lens, good color and enhanced uniformity

Up to national standard GB-14887-2003
A Whole Set Traffic Warning Light:

Model

NBSFL-300HP

Size

300mm

LEDs

3

Power

<8W

Lens

Spherical Cobweb len

Colors

Yellow / Amber / Red / Green / Blue / White

Material

PC

IP rate

IP65

Brightness

>4000cd/m²

Working voltage

12V

Wavelength

Red (625±5 nm), Amber (590±5 nm), Green (502±2 nm)

Operation temperature

-15 ~ +65

Flicker Frequency

1HZ

Duty Factor

1:3

Continuous of Rain Working Day

3 days

Working Current

>350ma

Visual Range

500 m

Assemble Way

Suspension

Solar Panel:

Power

10W

Summit Current

0.47A

Place of Production

Shenzhen

Operating Life

10 years

Solar Battery:

Capacity

13AH/12V

Operating Life

More than 3 years
Installation:
Mount the yellow flashing lamp on the support rod with two M10*50 screws, and then tighten with the M10 nut and washer;

Install the solar panel on the solar panel fixing bracket with four M4*30, and then tighten and fix it with M4 nut and gasket;

Fix the yellow flashing light on the light pole with the hoop, adjust the direction of the light, determine the position, and then tighten with M12*120 nut and washer;

Install the solar panel on the support rod, fix it with M8*80 screw nut and gasket, adjust the angle of the solar panel through the shaft screw, and tighten it with nut washer; 300mm high power solar warning light.

Connect the solar panel power cord through the wiring diagram, connect the bottom interface of the yellow flashing light with the aviation waterproof joint, open the button, and the yellow flashing light can work;

Attachment:

If the yellow flashing light needs to be installed on the vertical light pole, it can be matched with the mounting hole spacing of the C-shaped bracket, and the screw hole of the drill collar 12 is installed at the top of the light pole;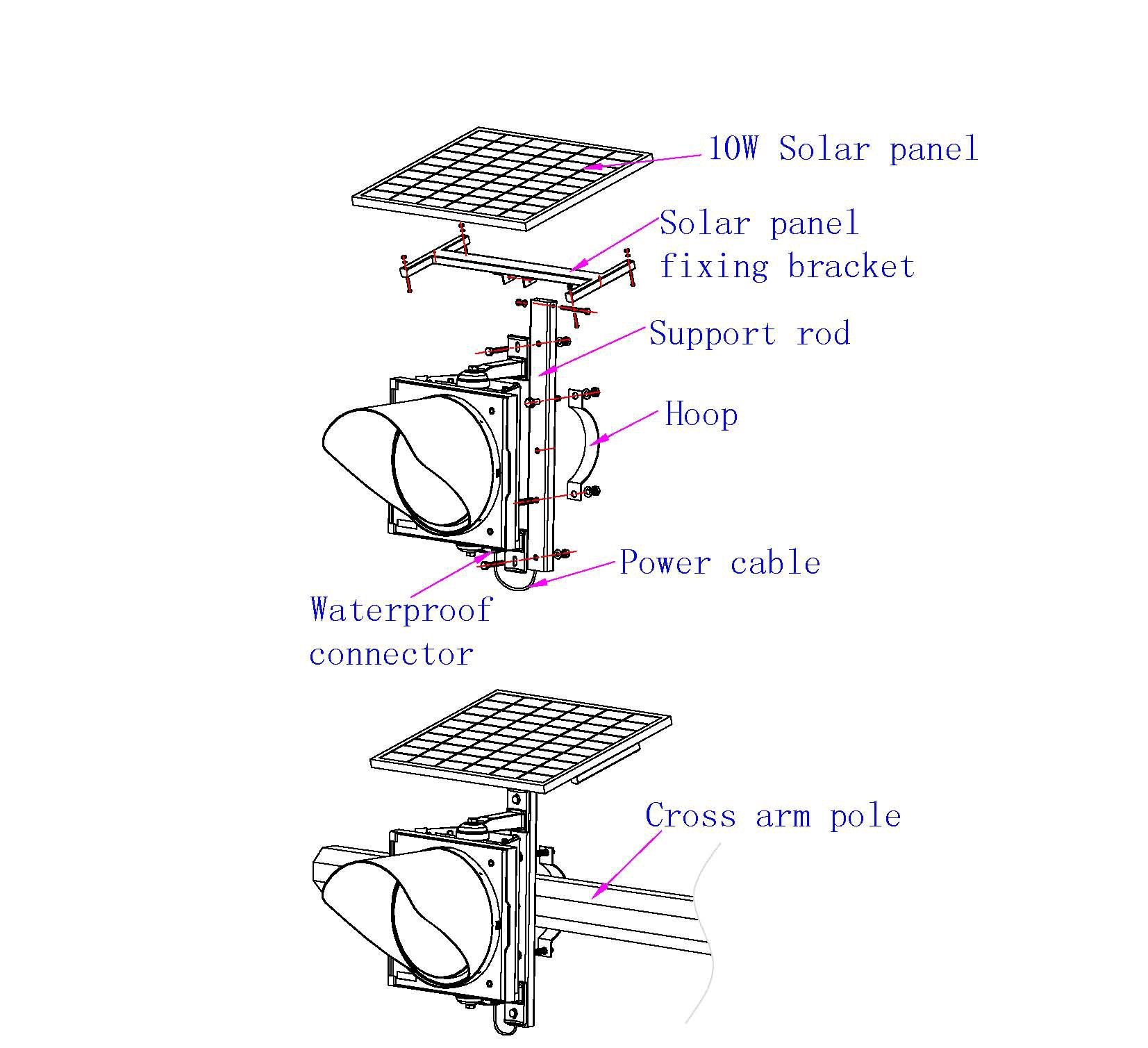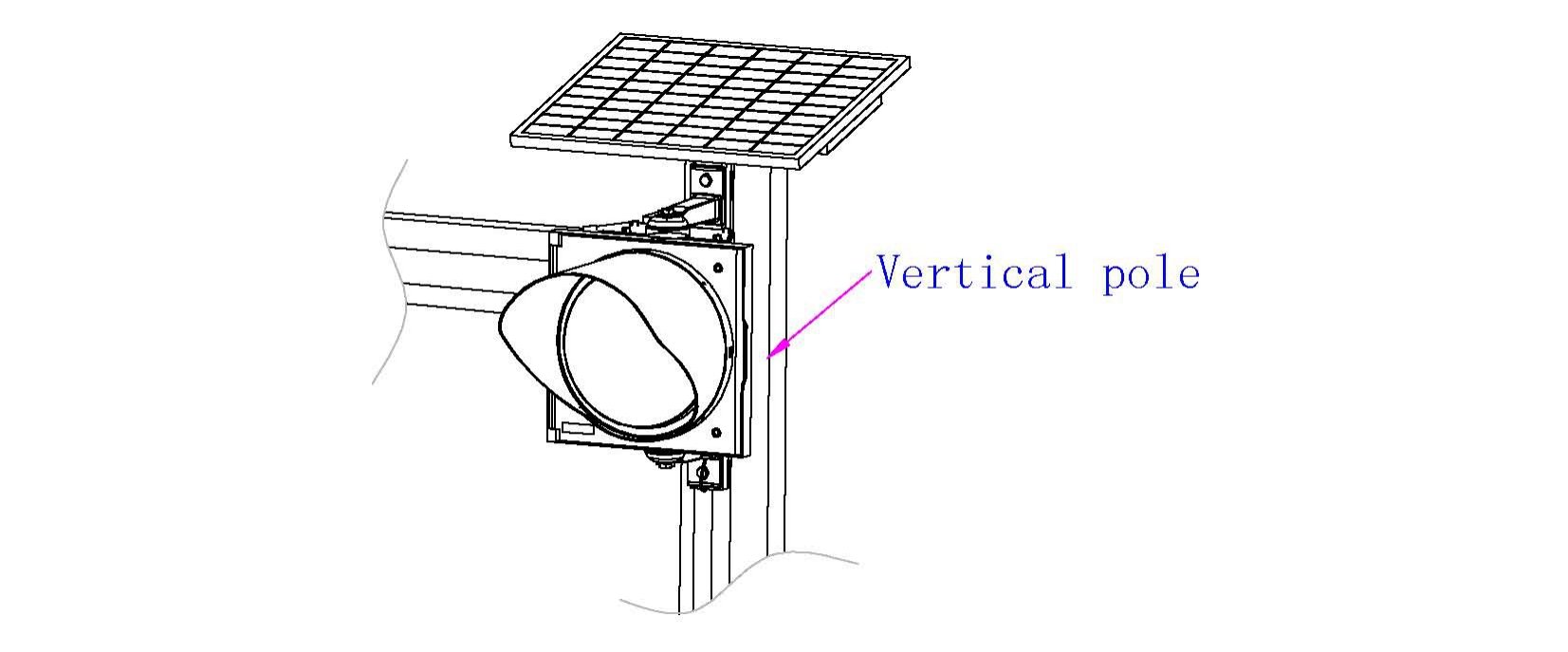 Work Time :
08:00-18:00(Beijing time)
Fax :
+86(755)27651483
Telephone :
+8613927455427(Working time)
Email :
trafficloopdetector@gmail.com
Factory Address :
Mingjinhai Industry Park, Tangtou Road,Shiyan Town, Bao'an District