200MM high power traffic lights for sale
Introduction of 200MM high power traffic lights 
200MM high flux traffic light is developed by our engineering R & D team based on ordinary low-power traffic lights after years of unremitting efforts. Compared with ordinary low-power traffic lights, high-power traffic lights are more popular with customer.200MM high-power traffic lights have many advantages, now I will introduce them one by one.First,The light source adopts 3pcs high flux 1W Osram LED chips, which is brighter, more uniform light emission, less dosage, low maintenance cost, longer lifespan and more guaranteed quality.Second,The power supply adopts isolated switching power supply, wide input voltage, short start-up time, lightning protection, surge protection, etc., and the output is designed with constant current and constant voltage.The entire power supply has been checked layer by layer from the design to the procurement of materials to the aging test. The aging process is strictly based on the specified time and full aging. Resolutely prevent bad products from flowing out of the factory and provide a stable working environment for the light source.
Third,The optical lens is independently researched and developed according to the lamp bead, and the original light is re-emitted.Compared with ordinary low-power traffic lights, high-power traffic lights are brighter, more uniform and softer light, and reduce the dazzling of the driver's eyes.Fourth,Fresnel lens has a flat surface, but can be used as a spherical lens. Because the Fresnel lens is basically flat, it can provide a huge space and reduce weight, and the focal length is shorter than its aperture, which is not possible with spherical lenses. Therefore, it can be used in high-throughput traffic lights to achieve a uniform light distribution.Fifth,The housing material is made of industrial-grade ABS + PC (polycarbonate PC) material that is resistant to ageing, salt spray and ultraviolet rays and is injection mould-ed at one time to ensure that the traffic lights are used for a long time in harsh outdoor environments.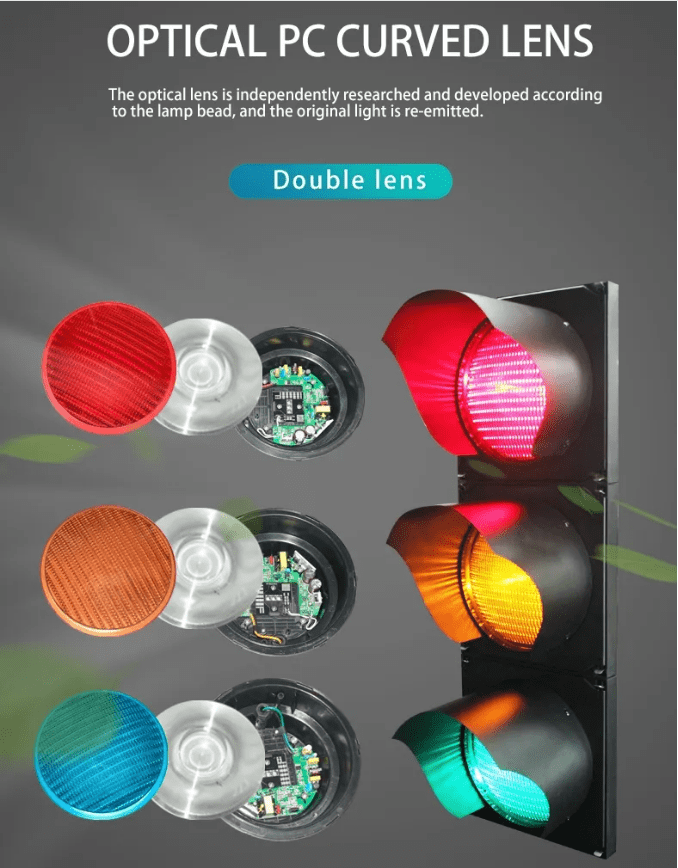 Sixth,200MM high power traffic lights adopts the whole cast aluminum design to dissipate heat, the heat produced by the luminous lamp bead is emitted into the air in time, and the service life of the LED is improved.Seventh,All fixing screws of high flux traffic lights are made of 304 stainless steel screws. All screws have passed the strict salt spray test to ensure that they will not rust in long-term outdoor use in harsh environments. The stainless steel structure is important for seaside cities.Eighth,Working normally in the temperature of-40-60℃, avoiding the normal operation of the product due to the change of ambient temperature.Ninth,The finished wick is tested by shaking table after assembly, and the vibration produced during transportation can be simulated, which can eliminate the bad products caused by welding, and play a key role in improving the quality of the product.Tenth,200MM high power traffic lights the waterproof structure adopts flexible silicone rubber sealing ring parts, dust-proof, waterproof, flame retardant, anti-ageing, the lamp shell is shockproof, anti-fall, no diamond, ventilation, good heat dissipation, IP66 waterproof. Coupled with the overall ultra-thin design, light and easy to install, the overall appearance is beautiful, won a number of patent certificates.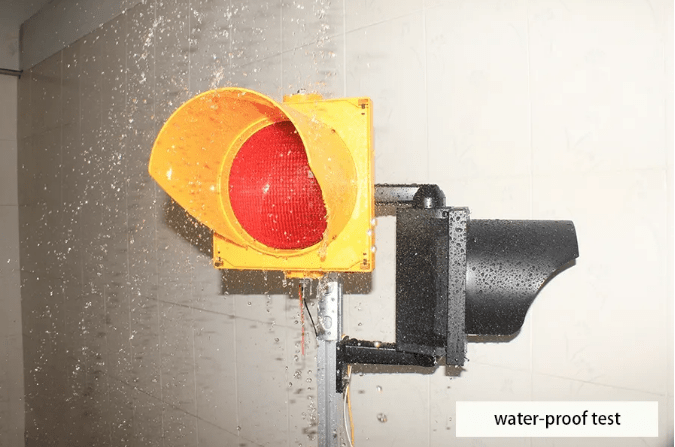 This is an introduction to the 200mm high-power traffic signal. This is also a product that our company has been selling well. It has a longer service life and is more trusted by customers.
Work Time :
08:00-18:00(Beijing time)
Fax :
+86(755)27651483
Telephone :
+8613927455427(Working time)
Email :
trafficloopdetector@gmail.com
Factory Address :
Mingjinhai Industry Park, Tangtou Road,Shiyan Town, Bao'an District