solar wireless traffic controller system
the solar wireless traffic controller system
NobTra provides an intelligent vehicle actuated MulSla solar traffic control solution, it makes a traffic policeman easily and effectively controls a road intersection with wireless remote control. What's more. It can eliminate the damage to the control system caused by an unregulated power grid and thunderstorm weather. The system is powered by a battery. During the day, the solar panel converts light energy into electrical energy to supply the system. The excess electricity is stored in the battery, and the electrical energy is released to the system at night. Each salve controller has its own IP address.16pcs slave controller with a 16pcs IP address. You can set it in any direction. (East, South, West, North). Additional. you can set each slave controller traffic light running time. It's convenient to set the traffic light time by phone App or computer. 1pcs master controller maximum equips 16pcs slave controller. The multiple salve controller can suit complex intersections or adjacent intersections ( The distance between adjacent intersections should more than 1 meter). If two adjacent intersection installs 1pcs master controller and 16pcs salve controller. Not only saves costs but also facilitates installation.
The advantage of the solar wireless traffic controller system:
1. With WIFI communication between controller with mobile App.Set the distance within 20 meters. Control by Mobile APP, it's convenient for the program and debugging on the site.
2. The system adopts wireless communication between each direction and is composed of a master controller and salve controller, which saves the material and labor costs of laying cables.
3. The signal coverage of the host and slave is wide, up to 200 meters,Signal stability. It is suitable for large and complex intersections.
4.One host, multiple slaves. Only one host is needed, and 1-16 slave signals can be added arbitrarily.
5.GPS for real-time synchronous, make green wave function come true. Achieve green lights all the way at all intersections to facilitate an inspection by national leaders.
6.Signal plan: Allowing 240 solution,30 period time, 240 menus with 60 phases. Allowing week plan, special day plan, All red time, red extension, etc. The controller can be set up with a week plan setting (Monday to Sunday) and a Holiday plan setting.
7. Each solar wireless traffic controller system was its own IP address. You can set it in any direction. (East, South, West, North).16 slaves are used at the same time, and the signals do not interfere with each other.
8. This traffic control system is suitable for all kinds of common intersections, such as cross-roads, T-shaped intersections, single-shaped intersections, etc., and supports up to 64 drive controls (36 vehicle channel, 16 pedestrians channel).
9. Support multiple communication methods. Ethernet communication, WIFI communication, GPRS communication,4G communication.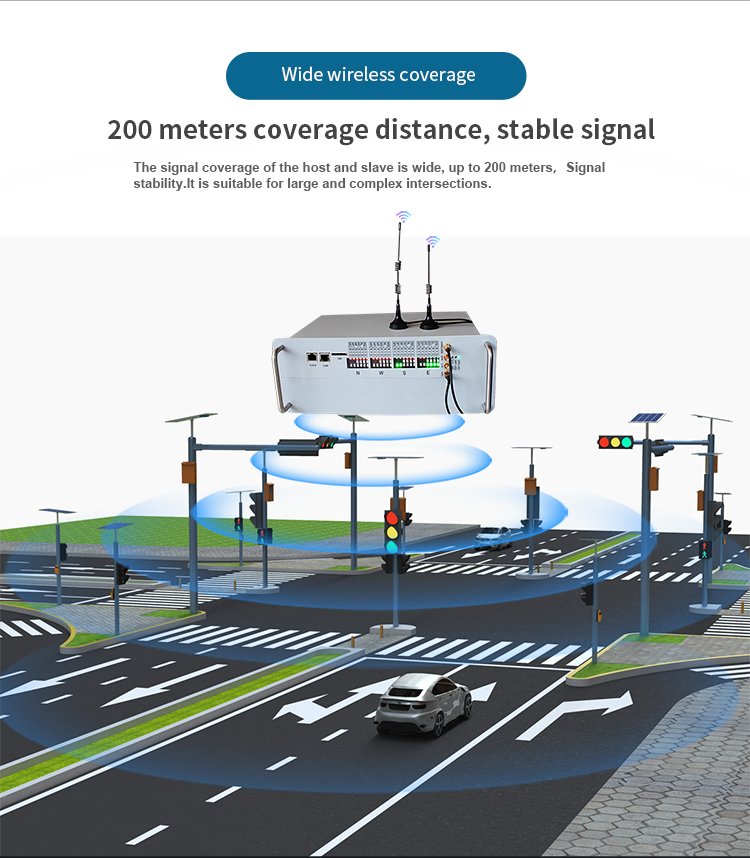 10. Support single-computer communication and centralized control communication mode of the upper computer. Centralized control of multiple intersections in the city can be achieved through centralized control.
11.Control center monitoring function. The traffic controller can realize remote control center monitoring, online PC terminal for traffic flow control, and manual intervention
12. The wireless traffic control system can work with the traffic light, video camera detector, push-button, or another device
13. Support various special menus. Such as turn off the display, yellow flashing on all sides, all red on all sides, etc. Software traffic management control system with remote administration function. Such as junction off, Hurry call, Forced flashing, etc.
14. Google, Bing, etc map no need to update the map support online map and offline map data.
15. The status of the light can be set globally. For example, you can set the yellow light time, yellow flashing enables, yellow light enable before the green light comes, red light flashing in the lane, flashing time setting of the pedestrian traffic light, etc., so as to meet the different setting standards and habits of various countries.
16. With High and low-temperature resistance. Multiple slave controller working temperature range was -40℃ -70 ℃.
17. With the cabinet, the waterproof performance is better. The battery, solar charger and discharger, and slave are all placed in the cabinet, which is waterproof, safe, and anti-theft.
18. With 5 years quality warranty. Good sales services and after-sale services.
Strict QC department. Before delivering goods to you. We will double-check the quality of the goods. Thus quality can be guaranteed.
19. Based on your actual requirement. We can offer different wireless solar traffic light solution for you. Professional designers design the renderings of intersections based on actual intersections.
20. We can provide remote service. If you have some confusion or met the problem of the solar wireless traffic controller system.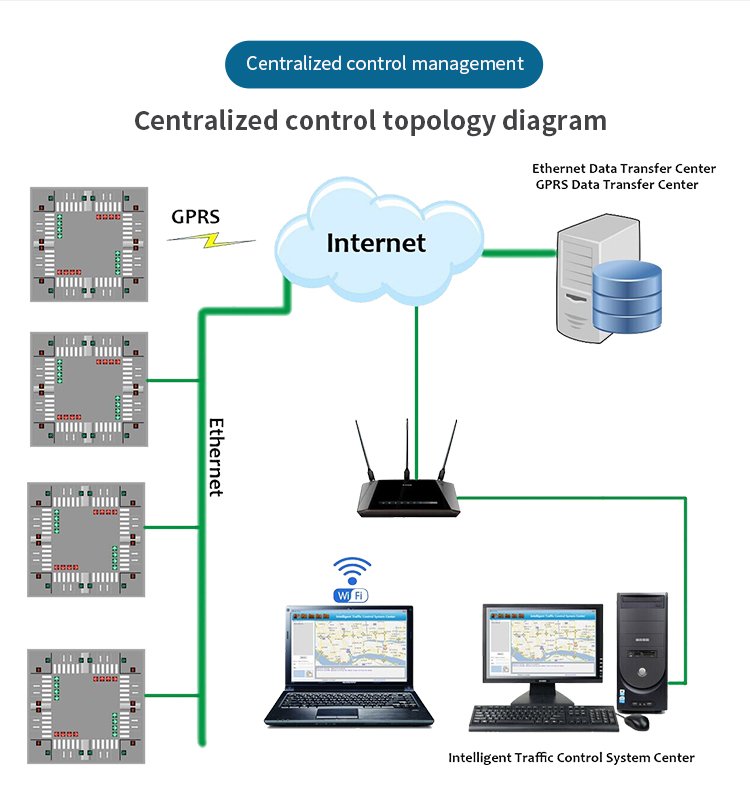 Work Time :
08:00-18:00(Beijing time)
Fax :
+86(755)27651483
Telephone :
+8613927455427(Working time)
Email :
trafficloopdetector@gmail.com
Factory Address :
Mingjinhai Industry Park, Tangtou Road,Shiyan Town, Bao'an District