solar Integrated street light
Product description:
solar Integrated street light use imported high-efficiency monocrystalline silicon solar panel,smart MPPT controller,deep cycle lithium battery,high-efficiency led chip,all in one box Integrated design,Easy to install and use,have Microwave induction and RGB flashlight design,multi-function lighting.
Working principle:
When there is radiation, photovoltaic modules use solar radiation to generate electricity, Convert light energy to electrical energy, Using the intelligent controller to charge battery input power, at the same time overcharge the battery 、over-discharge protection, Intelligent control of lighting and illumination of lighting sources, no manual operation.
Easy disassembly and assembly:
solar Integrated street light, Light body without glue, the battery with a special waterproof box fixed, the internal structure of the lamp is concise and reliable. Compared with other non-removable replacement products in the market,, each component is easy to maintain and replace, cost-effective.All wire rods use waterproof male and female mating connectors which are labeled,anti-terror function. Designing intentions embodies the rigorous and humane lighting custom spirit.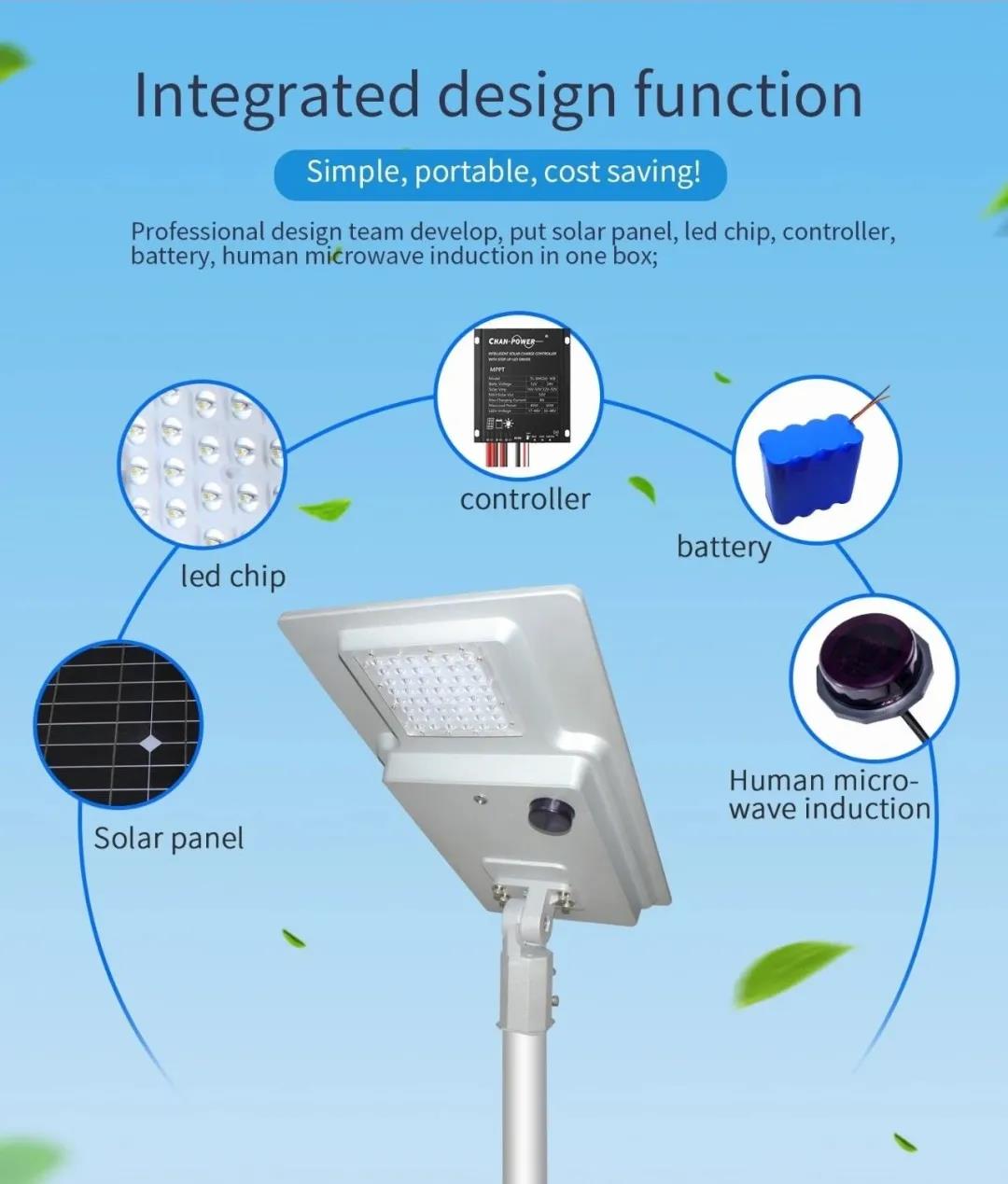 The advantage of the Solar Integrated Street Light:
1.Professional design team develop, put solar panel, led chip, controller, battery, human induction in one box;
2.Intelligent sensor technology, microwave radar sensor, according to the moving object to adjust the brightness of the solar Integrated street light, more energy-saving, humane. The second generation of integrated solar street lights equipped with the latest microwave induction technology. Solved the technical problem that traditional microwave induction is easily disturbed, Sensing distance up to 10 meters, Two to three times that of traditional infrared sensors, Guarantee the effective lighting of street lamps, environmental and energy-saving.
3. Intelligent power adjustment, the automatic judgment of weather, rational planning of discharge rules. The use of microwave induction function makes the lighting more intelligent, without manual operation every day.
4.It can be charged when light is on, and it can be charged on cloudy days. High-quality A-level monocrystalline solar panels, with higher photoelectric conversion, 7 hours fast charge, and lights all night.
5.Solar panels can be adjusted 90 degrees to suit various environments. Install the product in a place where there is direct sunlight, preferably facing South direction, and make sure that the solar panels have no shadows or Cover to block the sunlight, generally, the first use requires exposure to three Over hours, the battery can be fully charged in 7 hours under standard sunlight.
6. LED chip max can reach 210LM/W,more than double the average brightness of an ordinary LED light source, 140-degree view angle, bring the same lighting results with the shorter pole.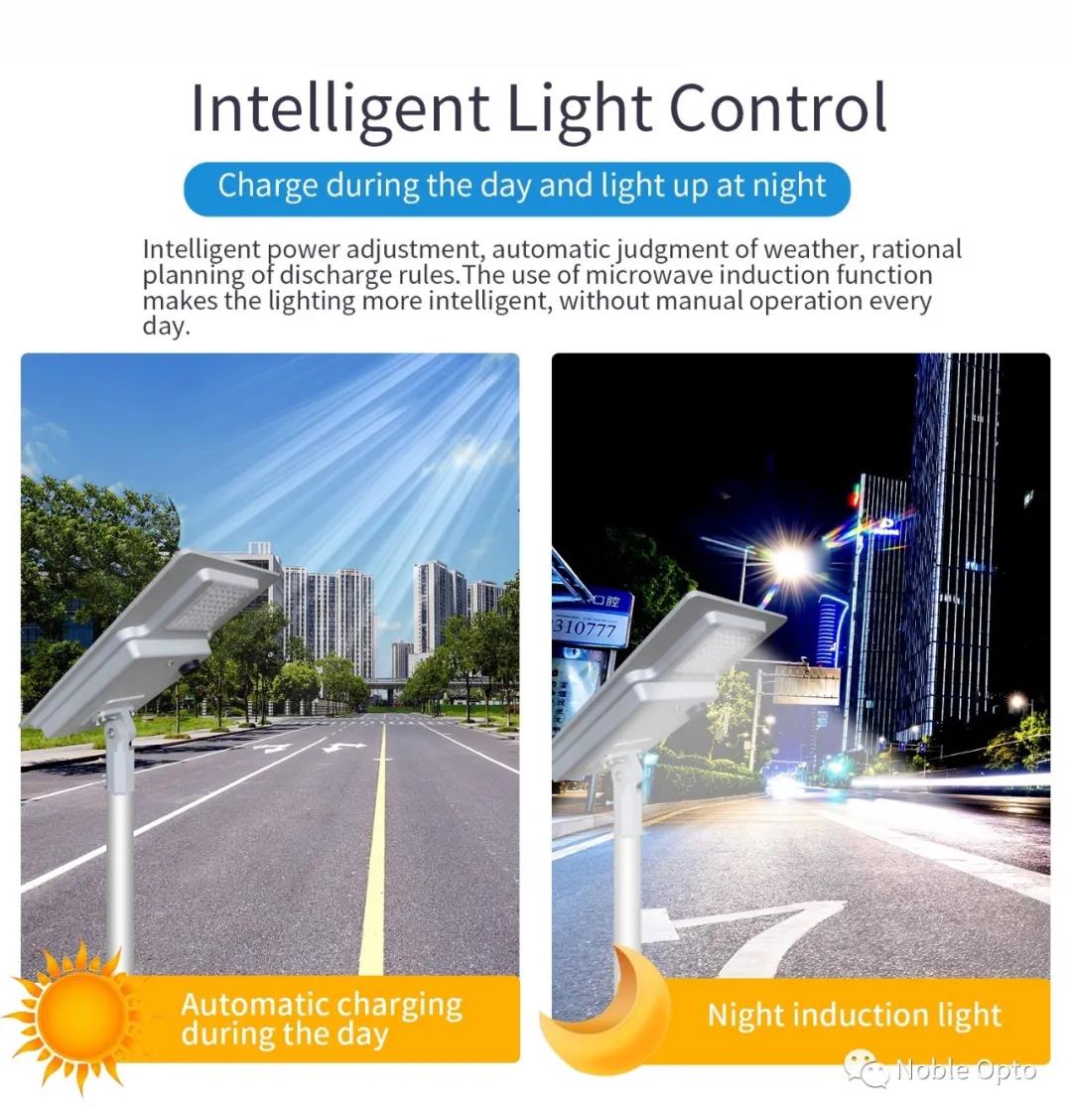 7. solar street light lithium battery adopts A1 high-efficiency ternary lithium battery and A1 grade lithium iron phosphate battery,high temperature resistance,high current discharge,lithium battery cycle up to more than 1000 times, LifePO4 battery cycles up to 2000 times.
Double protection
One. Dual temperature control system,Intelligent controller and lithium battery have a temperature control system inside, When the ambient temperature reaches the set limit temperature (60 °C), the Intelligent controller and lithium battery at the same time power off,to protection lithium battery safety.
Two. Each explosion cell of the lithium battery pack is equipped with an explosion-proof valve, to prevent the battery from discovering an explosion and placing potential threats out of the way.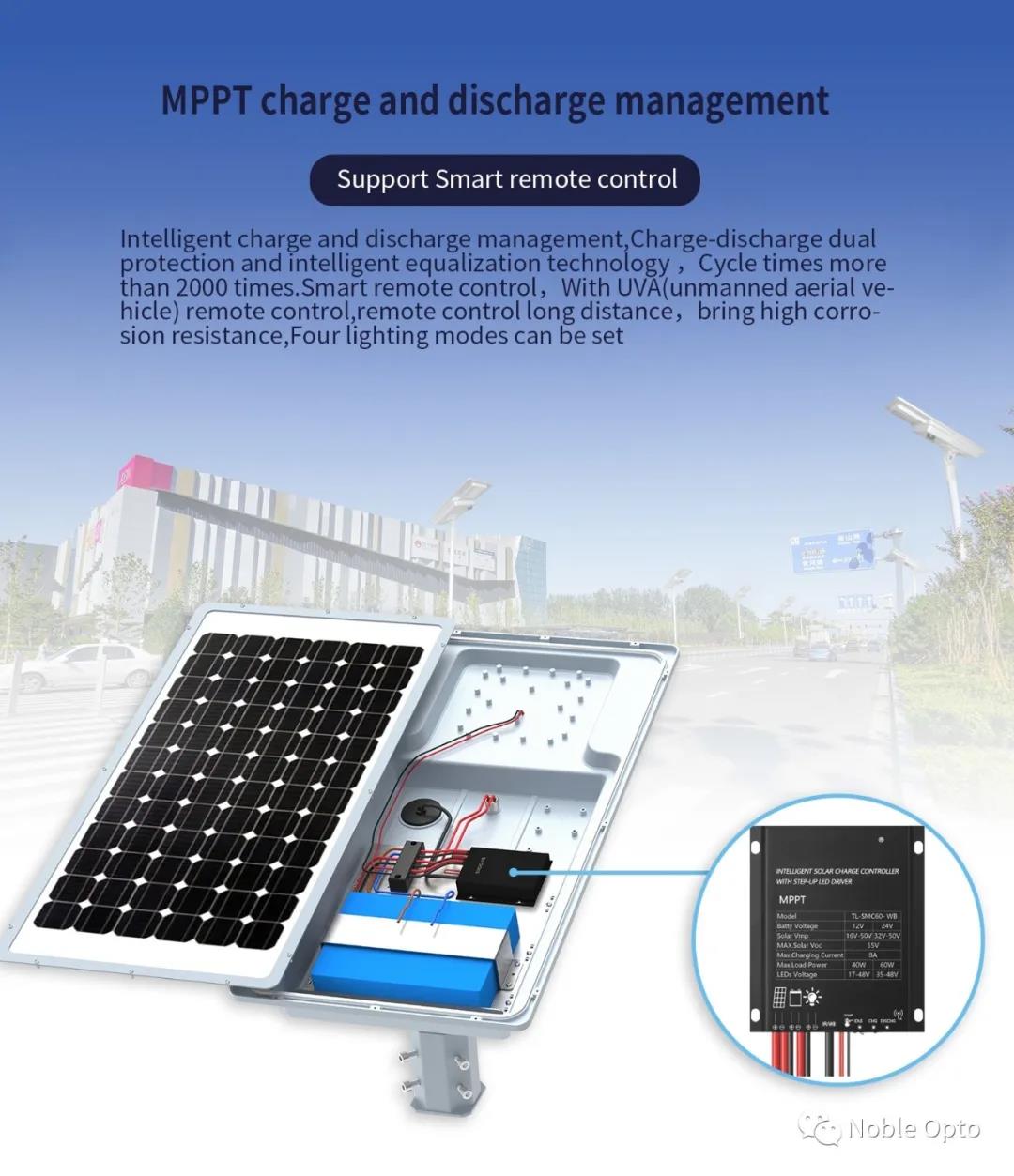 8. solar Integrated street light charge and discharge management, Charge-discharge dual protection and intelligent equalization technology ,Cycle times more than 2000 times. Smart remote control,With UVA(unmanned aerial vehicle) remote control, remote control long distance,bring high corrosion resistance, Four lighting modes can be set.
Work Time :
08:00-18:00(Beijing time)
Fax :
+86(755)27651483
Telephone :
+8613927455427(Working time)
Email :
trafficloopdetector@gmail.com
Factory Address :
Mingjinhai Industry Park, Tangtou Road,Shiyan Town, Bao'an District